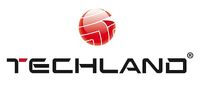 Techland is a Polish video game developer, founded in 1991 by Paweł Marchewka. They are most famous for developing Call of Juarez, a Western-themed first-person shooter, released for Microsoft Windows in 2006, and later ported to Xbox 360 in June 2007. They also produced Dead Island, a first person survival horror zombie shooter.
External links
Edit
Ad blocker interference detected!
Wikia is a free-to-use site that makes money from advertising. We have a modified experience for viewers using ad blockers

Wikia is not accessible if you've made further modifications. Remove the custom ad blocker rule(s) and the page will load as expected.