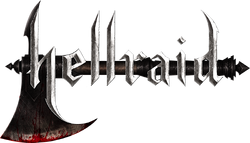 Hellraid is a First-Person Co-op Slasher formerly known as Project Hell. Game is in development by Techland for PC, X360 and PS3 release in 2013.
Development
Edit
The game began as an internal weapon mod for the game Dead Island that was created by a developer who goes by the name MZM. After that the small team was assembled which now works on a full game which will feature a single-player and co-op gameplay.
In Hellraid players will fight forces of Hell to ensure the survival of mankind. No further details about the story has been revealed yet.
Hellraid is an FPP action game called a First-Person Co-op Slasher. Developer claims it will offer two games in one: a single-player, story-driven campaign of hack & slash action and co-operative multiplayer for up to four players with a competitive challenges for points, rewards and place on the leaderboards.
Players will be able to play as one of four character classes:
See the complete list of Weapons in Hellraid.
See the complete list of NPC's in Hellraid.
See the complete list of Enemies in Hellraid.
Locations
Edit
See the complete list of Locations in Hellraid.
External links
Edit
Ad blocker interference detected!
Wikia is a free-to-use site that makes money from advertising. We have a modified experience for viewers using ad blockers

Wikia is not accessible if you've made further modifications. Remove the custom ad blocker rule(s) and the page will load as expected.